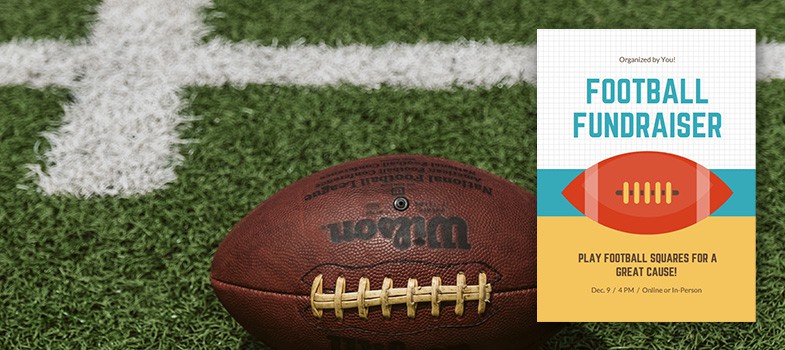 Football Squares, also called Super Bowl Squares, can be a highly successful and fun way to earn money for your fundraiser. Similar to a 50/50 raffle, each participant gets a chance to win while half the money goes to the fundraising organization – which could be a youth soccer team, a church group, or any other club.
Football Squares can be a great way to raise money for your fundraiser, where each person playing can support your cause while also having fun. For each square that a donor buys, half goes to the fundraiser while the other half goes into the pot so donors have a chance to win some money too.
Everyone likes the thrill of the win and asking people to join in a game of Football Squares can be a lot easier than straight up asking for a donation.
Let's take a look at a real example. A youth volleyball organization in Texas started a Football Squares fundraiser to raise money for scholarships. At $10 per square, people bought squares until the first football grid filled up. Then the organization started another grid and filled that one up too. By the end of the fundraiser, they had 20 full football grids. Since each grid has 100 squares, that's $20,000 in total that they collected, with $10,000 going to scholarships for the kids and 10,000 going back to the participants as payouts!
How To Start A Fundraiser with Football Squares
If you've played Football Squares before yourself, you'll already know how to play but if you're new to the game, you'll want to run through our quick How-To Play Football Squares. Once you're familiar with the game mechanics, you can focus on how to set up the fundraiser.
To use Football Squares as a fundraiser, first pick a real football game to use for the date and score. Then, either in person or online, get people to purchase squares and collect all money before the game starts. After the game, pay out each winner and keep the proceeds for the fundraiser!
OK, I packed a lot in there. So let's unpack…
Before you start: refamiliarize yourself with how to play Football Squares. As you run this fundraiser, you're going to get a lot of questions. Feel free to just send them to this page.
A quick recap though: A Football Squares grid will generally be 10 rows X 10 columns, so 100 squares. Each row and column represents a number 0 through 9. At the end of each quarter (or just the final score), if the last number from each team's score matches your square, you just won part of the total money (pot) that raised.
Pick the fundraiser (game) date. The real football game will determine the date of your fundraiser. While it's often called Super Bowl Squares, people can play Football Squares for any football game. In fact, you don't have to limit yourself to football, a basketball game works too. If your organization has a hometown favorite, ie the local college or high school team, base your fundraiser on their game schedule. Make sure to give yourself at least a week in the future so you'll have time to sell football squares. Remember, high school games are generally on Friday nights, college games all day Saturday, and NFL games all day Sunday plus the Monday Night Football game. Choose wisely.
Pick your game formats and payouts. Most people are used to playing Football Squares with a 100-square grid and 4 payouts, one for each quarter. Don't be afraid to step out of the box though: if you will have less people, you can use a 25-square grid. You could also just have a final score payout where there's only 1 winner, or do payouts each half. You can also play with how much of the pot goes to your club/organization. Usually though with fundraisers, the "house" will get 50%.
For starting out though, I'd recommend using a 100-square grid to raise more money, have a house payout of 50%, and do 4 quarter payouts of 25% each (of the 50% that's going to donors).
Choose to play online or in-person. Both can be highly successful but there are trade offs. If you choose the online option, gathering the money may take more work and you may need to offer technical support for participants less tech savvy. You can however, expand the fundraiser if there's lots of demand and add more football grids. There's also some great online Football Squares options to make it easier. If you hold an in-person event, there's a lot more coordinating and planning involved since you'll need to find a venue, figure out the food/snacks, parking, etc. For this format, you'll want to download a printable Football Squares game sheet. After it's filled out, you'll show it on the screen projector if you have one (perhaps as part of your slide show), or hand out paper copies to each attendee. If it's a smaller venue, you could also print off a poster at either three foot by 2 foot or 4 x 3.
Sell each football square. Now that your Football Squares board is ready, you need to sell each square. If you're playing online, let donors purchase as many squares as they want since you can always create another board – and that's more money raised! If you're hosting an in-person event, you may want to limit the squares to each participant. Either way, you need to sell squares and get the word out. See below for some ideas on how to getting more people to play. Make sure to keep track of each person who signs up and get their money. If playing online, you can accept payment through Venmo, Paypal, or sign up for a free Square account to accept credit cards. Checks may be an option too. If playing in person, do cash and checks.
Enjoy the game! It's now game time so relax and watch some football – you've earned it! At the end of each quarter, update your game board(s) with the score and mark who each winner is (if you're doing quarterly payouts). Wait to do any payouts until the end of the game since it's possible that one person could win multiple times.
Pay out each winner. At the end of the game, make sure to pay each winner. If you're in person, include a receipt so there's a record. It's also worth noting here that all proceeds from your fundraiser are considered donations so some players may want receipts for their taxes but only half of the money raised (if the house pot is 50%) is actually a donation.
Thanks and follow-up. Make sure you profusely thank each and every participant for being part of your fundraiser and encourage them to play next year. It's a good idea to send out an email with a brief summary. In it, include the scores and congratulate the winners but also remind everyone who the biggest winner was – your organization and what the fundraiser was for. If you just raised $10k for volleyball club scholarships, make sure to share how much that will help those getting the scholarships. That extra follow-up will keep people playing each year!
Congratulations on your fundraiser! Hopefully everyone had fun and you made some good money for your organization. Take notes on what worked and what didn't so your next fundraiser goes even smoother and you can even generate more funds.
I have a few tips to help you supercharge your fundraiser below and as you run the fundraiser, you'll think of other ways to improve it too.
How To Make More Money From Your Football Squares Fundraiser
The beauty of this fundraiser is that if you fill up one football grid, you can start another – right up to the coin toss in the real game! So as you get more people interested, you can expand as needed.
Here's a few tips for how to get more people to play:
Don't be greedy. Know your group – usually $10 per square is a good number but you may want to drop the price down to $5 per square or raise to $20. If it's an in-person fundraiser, you may be able to charge $100 or more for each square depending on the group. It's usually better to keep the price somewhat low so that more people will play. Those with more money can always buy more squares to increase their odds. And if the cost of each square is too high, you will have a hard time selling squares, especially if this is your first Football Squares fundraiser.

Ask the leader to announce.

If this is a sports club fundraiser, get the coach to announce to the team and encourage everyone to promote. If this is for church, get the pastor to announce to the congregation. Whomever is in charge will be more than happy to help get the word out.
Email everyone. You should have an email list. If you don't, it's probably time to start one. Send out a bulk email to everyone to let them know about your fundraiser. Make sure to let them know that it's Football Squares and that they can win big while raising money for your organization. You may want to sign up for a service like MailChimp that handle the bulk emails and let's you design your emails.
Add to the calendar. If your organization has an event calendar, make sure your fundraiser gets on it.
Make flyers and posters. Sure, you can design your own flyer in Microsoft Word or Photoshop but there's a couple of great online resources that'll help you create an amazing design in no time. The online graphics editor website Canva has lots of great templates to start your design from and their basic membership is free! The online 'crafty' marketplace Etsy has editable fundraiser posters and flyers that you can buy for cheap, in the $8-$20 range – that'll get you a professional design that you can re-use each game. You can also find great design ideas on Pinterest if you'd still like to design your own.

Engage the members. Your own members can be your best promoters, especially since the fundraiser is for them! Encourage each member to promote the fundraiser to their friends, family, co-workers etc. You'll be surprised at how quickly you'll sell squares when you get them engaged in spreading the word! Be prepared to give a couple of reminders though.
Ask for donations. Before, during, and after the event, ask for donations. As you promote the event, also give the option to simply donate. Some folks won't want to play Football Squares but may want to directly contribute to your cause directly. During your fundraiser, directly ask for any additional support from everyone playing; after all, they're already supporting your organization. They may be willing to go that second mile. Lastly, as you announce the winners and you thank everyone for participating, include an option to make a final donation. As long as you're not pushy, people won't hurt to raise a few more dollars.
This list is just to get you started. Hopefully it sparks some further ideas to help you with your fundraiser. Good luck with your fundraiser!